I've heard this from almost millions of bloggers – how much does Adsense pay per click? And, I simply chuckle, not because I don't know the answer, but rather they'd not buy my words, as everyone's experience has been different with Google Adsense, and various Adsense accounts behave differently.
Basically, before I answer this question and a bunch of other related stuff, I've a small question for you – what would you do if I told you it's just $0.01? Would you stop worrying about making money on the Internet with Google Adsense?
And, what if I said it's $10+ per click – would you believe me?
Also, in terms of the earning potential, would $1,000/mo motivate you enough? Would $2000/mo compel you to try harder, and succeed? What if I said $10,000 or even $100,000/month was possible with blogging and Google Adsense, along with various other monetisation methods.
This is one of my Google Adsense accounts, which did over $37,000, and it clearly goes to show that I made about $0.33 per click from it.
Note: This post was written by me in 2010 originally when I hadn't hit $10k/mo mark, and I've updated in now in Nov 2020 on Black Friday eve, which usually motivates bloggers to start a new blog . And, there simply can't be a better time than now, to buy Hostgator hosting with free domain at 75% off this cyber weekend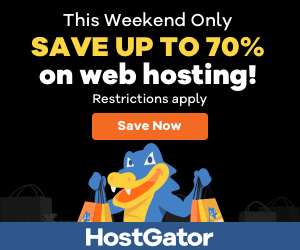 Hopefully now that has got you all charged up, but the reality is that your CPC might be quite different, and in the end, it all depends upon several factors –
how many sites do you run (if you run more, you can experiment more)
how much traffic they receive,
for what keywords those blogs/sites are optimised, and
what the average CPC of those top ranking keywords really is!
Google Adsense Earnings Per Click: My Experiences
The lowest I've got is obviously $0.01, and the highest Google Adsense earnings per click I've got in recent times is $10.26!
So, basically instead of asking "how much does adsense pay per click" you should ask yourself – "how much money do I want to make with Google Adsense?" – and then work out some figures. If you want to earn just $1,000/month then you must optimize 100 KWs for Page1 rankings that fetch you avg $10/month.
Like you can see in this example – on lucky days, i've even made $7.32 with just 5 page-views and 3 clicks, which makes it Google Adsense earnings per click of $2.44! Now, that was a car blog getting US traffic.
Remember, you can also optimise 10 KWs that fetch $100/month, but doing so is relatively dangerous because the moment you lose 1 ranking, you'd lose $100, whereas in the former case, you'd lose only $10 if you lost 1 of the 100 rankings!
Now when we look at the next example, it's under a dollar per click – $0.98 to be precise!
I'd received my first $100 Adsense pay-check in 2006, and I started making far more than $1000/month by 2009, but wouldn't like to disclose my total earnings so far. But, the encouraging prospect is that I PERSONALLY know few of them who make $100,000+/month ONLY with Adsense – and I'm not kidding!
How much does Adsense pay per 1000?
That's another frequently asked question, and again the answer is that it varies from as low as $1 to as high as $242.99 – again these are my stats, and I'm not sure about others!
Earning with Adsense is all about playing smart, and it's quite easy to learn how to make money with Google Adsense so long as you know search engine optimization, and understand how to pick the right keywords!
Edit as on May 2020: I had crossed $100k/mo and lost it all in May 2011, and now I make 6 figures, but not from Adsense alone, but rather affiliate campaigns, e-com, and my SEO agency, and Ecom Agency DOTS
So, I hope you'd never ask this again – how much does Adsense pay per click or per 1000, and rather tell how much you really make and how much you plan to earn with Adsense!
I hope to turn into a six figure blogger with Adsense again by end of this year, and hope that if you've been following my SEO tips, you'd have also started making decent money on the Internet by now.
If you're still clueless, how to get started, watch this keyword research video!
Also don't forget to register for the Bloggers World University Premium Waitlist Super 17, if you're serious about learning how to create micro niche blogs and making money with Adsense in 2020 from someone who's REALLY BEEN THERE and done that, over and over again in last 14 years, and playing his 4th innings!
You can also join Desi Bloggers World FB Group for all the free help you need, and read all about Bloggers World University Program here.
Remember, you MUST have a premium WordPress theme to ensure that you blog looks presentable for Google Adsense approval, and I recommend taking Envato monthly subscription for those who need multiple themes!
Don't forget to grab HostGator March sale ending March 25, 2021
Please wait while you are redirected...or
Click Here
if you do not want to wait.